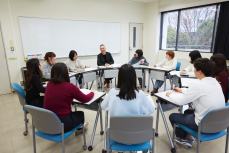 Research on culture and the humanities are the common themes of these courses. The curricula are focused not only on conveying factual knowledge but also on encouraging each student's creative development.
Psychology Course Doctoral Program
Psychology
The curriculum of the Psychology Course offers six core themes: Psychophysiology, Dietary Psychology, Cognitive Psychology, Psychology of Learning, Human Psychology, and Clinical Psychology. In the first phase, experimental research, research guidance, lectures and Master's degree seminars are offered. In the second phase, the curriculum is centered on research guidance. Students present papers on the results of their studies and write doctoral dissertations.
Clinical Psychology
In this area, we will establish a specialized course corresponding to the acquisition of a clinical psychologist training course designated by the Japan Clinical Psychologist Qualification Accreditation Association and the succession psychologist qualification acquisition. Taking advantage of expertise in the field of psychological science with a long history, we aim to train specialized professionals who acquire the expert knowledge and skills required by the modern era by new fields. Students enrolled in this area can also take practical training at the clinical psychology counseling center.
Sociology Course Master's Program
The curriculum offers lectures, seminars, field research, research guidance and task-based research in the following areas: a) Social Transition b) International Society c) Social Studies and d) Contemporary Society. The lectures systematically teach sociological methods and theories. Graduates from this course may go on to work either in government or the private sector.
Education Course Master's Program
Six subjects are offered: Basics of Education, the History of Education Culture, the Education System, Education Policy, the Sociology of Education and the Pathology of Education. Other special courses are provided in response to the students' various needs. Students with expertise in a number of fields in education are in great demand.
English Literature Course Doctoral Program
Students can major in British Literature, American Literature or English Linguistics. Students' needs are flexibly addressed so that they can pursue research according to their own interests. In linguistics classes students can learn sociolinguistics and TESOL.
Center for Clinical Psychology and Counseling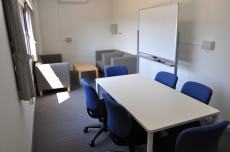 Here, licensed clinical psychologists serve as counselors, and respond to students' requests for counseling.
The center houses three counseling rooms, an observation room, two playrooms, and a conference room. The overall purpose of the center is to support the mental health of students and local residents.