Purpose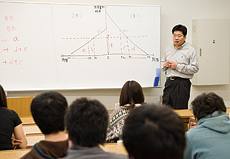 General Education classes are offered to all the students of our university regardless of faculties, departments and majors. The purpose of these classes is for students to develop a broad and deep knowledge and all-round judgment.
Policy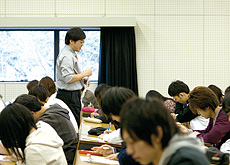 General Education subjects are grouped into Liberal Arts, Foreign Languages, and Health and Physical Education classes. Students can freely choose and take subjects according to their own interests. There are a variety of General Education subjects offered at various levels so that students are able to learn both enjoyably and effectively.
Characteristics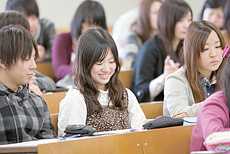 General Education classes address contemporary themes such as globalization, the information-oriented society, sophisticated scientific technology and the diversification of values. For English language classes, students are given a placement test on entering HSU, and are placed in classes of different levels, according to their abilities. Reading, writing, speaking and listening skills are taught in order to develop students' overall abilities in this universal language of today. Health and physical education classes aim to give students an understanding of the concept of health, both by looking at the functions of the human body and by developing students' physical capabilities.
Field of Study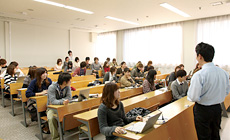 Liberal arts classes are divided into basic subjects and general subjects and include a variety of subjects from both the humanities and sciences so that students are able to freely choose subjects according to their own interests. The classes focus on a wide variety of themes including contemporary and interdisciplinary subjects such as the Culture of the Edo era and the meaning of "Hiroshima". Aside from regular lectures, different style classes are offered such as general liberal arts classes and liberal arts seminars.
Policy
Hiroshima Shudo University believes that excellent liberal arts education gives students a well-balanced view of the world, which is essential for living in this modern society. Therefore, while respecting orthodox subjects, the curriculum is devised so as to address various contemporary issues beyond the conventional framework.
Field of Study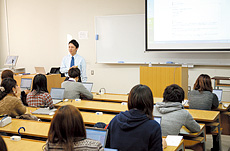 Hiroshima Shudo University and Hiroshima City are both active in international exchange. Hiroshima's relatively large population of international residents and visitors from overseas afford Japanese students many opportunities for communication. Dialogue with people from foreign countries is important if Japanese students would like to contribute to world peace from a grass-roots level as citizens of Hiroshima, the International City of Peace and Culture. In addition to English, various languages, including Japanese, German, French, Chinese, Spanish and Korean are taught to make such communication possible.
Policy
The basic objective of English education at Hiroshima Shudo University is to give students a deeper understanding of the cultures of English-speaking countries, to allow them to develop good skills to communicate Japanese culture to people from foreign countries, and to encourage them to become active members of our international society. Other foreign language courses, all taught from beginners' level, aim at opening a new world to students beyond the worlds of Japanese and English. In addition to the foreign language classes taught on the university campus, various programs abroad are offered to students.