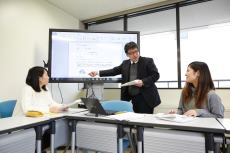 The Graduate School of the Faculty of Commercial Sciences was established in 1971 in response to demand from the local community. Students are able to acquire a wide variety of highly sophisticated knowledge about commerce, business administration and accounting. The School also places emphasis on continuing education for working people, on strengthening ties between the university and the community, and on making international contributions through research and education.
Commercial Science Course Doctoral Program
The curriculum focuses on various economic activities actually taking place in the real world. Topics covered include distribution, marketing, trade, finance, insurance and transportation. Lively informed discussion on each theme among the students with the guidance of professors enhances students' knowledge.
Business Administration Course Doctoral Program
The major purpose of the curriculum is to make scientific analysis of the business activities of individual enterprises based on a professional knowledge of business management and accounting. In research and discussion, the latest information technology will be utilized. Support systems are in place for students seeking certification as a Class 1 national government official.