The Center for Co-Creation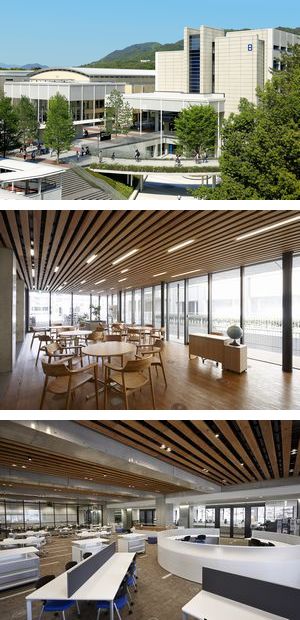 A new building named "The Center for Co-Creation" was completed in March, 2015. The Co-Creation building brings together the International Affairs Center, the Center for the Co-creation of Hiroshima's Future, and the Learning Support Center. It has been designed as the new intellectual hub in the university, where students, teachers, and staff can communicate and collaborate for creating a better future. The main focus of this building's first floor is the "Study Commons" area, providing various focused spaces used for group work, discussions, and student study. The first floor also houses a facility called the "iCafe", designed for the purpose of global communication. In this area international students can talk and work with Shudo students, staff, and teachers in a relaxed and welcoming atmosphere. It houses the International Affairs Center on the first floor.
University Library Opening Hours
You can to scroll sideways to see the whole table.
| Term Time | |
| --- | --- |
| Monday to Friday | 8:45 a.m. to 8:30 p.m. |
| Saturday & Sunday | 10:00 a.m. to 4:00 p.m. |
| Vacation | |
| --- | --- |
| Monday to Friday | 9:15 a.m. to 4:30 p.m. |
| Saturday & Sunday | Closed |
HiroMira Center
The Institute promotes the undertaking, publication, and distribution of research from a wide range of academic fields. HiroMira Center also organizes open lectures by visiting or resident speakers, as well as seminars and conferences that are hosted by Hiroshima Shudo University.
Learning Support Center
The Learning Support Center, located in the Lecture Center for Co-Creation, is equipped with computers, various reference materials, study tables, and is served by helpful staff skilled in various areas of skill development for study at university. The main aim of the Learning Support Center is to provide students with support as they develop the skills they need as university students: including skills for academic reading, for writing, for note-taking, for finding and using references, and for presentation.
Seminar House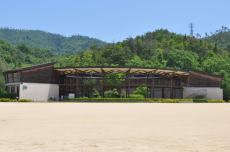 The Seminar House, fully equipped with air-conditioning and heating, is located on the university campus. It can accommodate 100 people in Japanese and Western style rooms. There is a study room with a seating capacity of 30, a room which may be used as a dining room or meeting room, a small kitchen and a laundry room. The Seminar House is mainly used as short-stay accommodation for international students enrolled in the Japanese Language and Culture Programs or for study sessions of seminars or club activities. The caretaker is on duty 24 hours a day.